Cleaner production audit conclusions and expert acceptance opinions
---
---
Shandong Sanhe Wixin Biotechnology Co., Ltd. formally carried out the clean production audit in March 2017 according to the requirements of the Notice on Further Promoting Clean Production in Key Enterprises (Huanfa [2010] No. 54).
In this round of cleaner production audit, the company identified sucralose production process as the focus of the audit, and set cleaner production targets. During the audit period, a total of 9 cleaner production solutions were proposed, including 6 no/low-cost solutions and 3 medium/high-cost solutions, through a variety of means, such as recruitment of cleaner production solutions by all staff, consultation with auditors, on-site guidance by technical experts and material accounting.
As of December 2017, all 9 cleaner production programs generated have been implemented, with 100% implementation rate of the programs. The company invested a total of 12,588,500 RMB , of which 136,000 RMB was invested in the low cost program and 12,452,500 RMB was invested in the medium/high cost program. After the implementation of the program, the company saves 600t/a of steam, 3575m3/a of water, 0.57 millionkWh/a of electricity, 1422t/a of sodium hydroxide solution, 330t/a of sulfur dioxide and 194t/a of hydrogen chloride, with a total economic benefit of RMB 3,304,400; 3228 m3/a of wastewater, 0.34t/a of sulfur dioxide and 0.02t/a of hydrogen chloride are reduced. 0.02t/a of hydrogen chloride.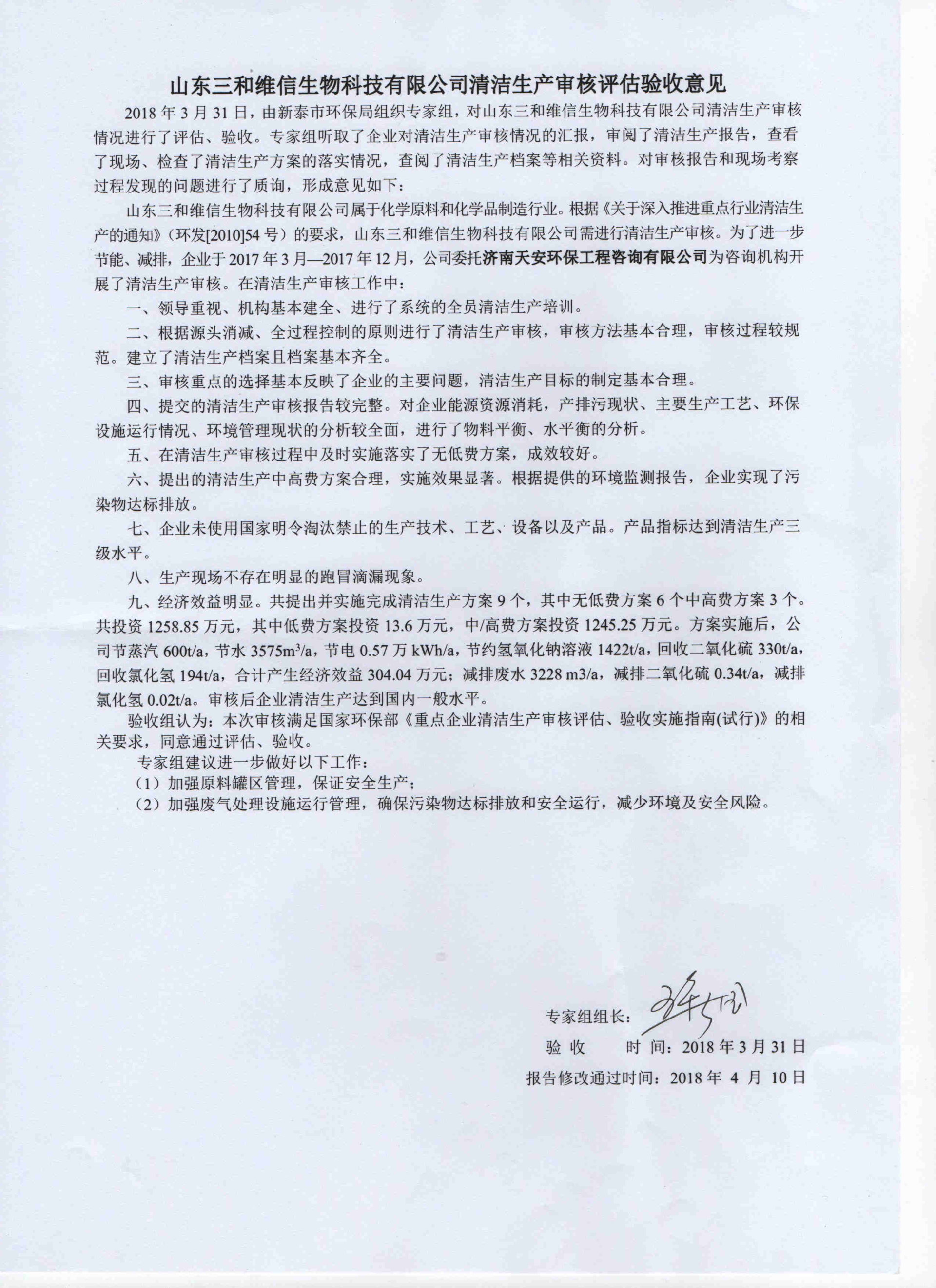 After the audit, the company's clean production level has reached the domestic advanced level and has improved to a certain extent compared with that before the audit.
Clean production audit not only reduces the production consumption, protects the environment, improves the working efficiency, but also improves the management level of the company, which injects new vitality for the lasting and healthy development of the company. In the future development, the company will put the idea of clean production through the development planning, integrate the concept of clean production in the process improvement and production expansion, choose advanced clean production technology, adopt reasonable production process, reduce energy consumption and pollutant emission.
---
Similar news
Statement on recent rumors and slander
Recently, there are some unfavorable remarks in the market, which are malicious and slanderous to our company, which seriously affect and mislead the market customers' correct understanding of our company, and make our company's reputation affected. In this regard, we hereby solemnly declare that
Sanhe Wixin strengthens the management of the company to implement the "leadership to the grassroots system
In order to further improve the management level of the company, the company from September 10, 2015 to implement the management system of the leadership of the grassroots, the system provides that the leadership of the company not less than 4 hours a day in the workshop grassroots, combined with the specific work or content of their respective responsibilities, targeted to the grassroots to understand the situation, identify problems, guide the work, help solve practical problems,